Humidifier
Humidifier Description
【Air Humidifier】Water droplet reflow black technology, ultrasonic atomization technology, 1 million times per minute vibration, fine water mist, nourishing the air at the same time can also relieve stress, help you restore the mood, make life more interesting
【Power-off Protection】Bedroom humidifier automatic shutdown for 4 hours of continuous use, timed power off to protect the machine, durable and more worry-free (Adapter must support 5V 2A)
【Intelligent anti-shutdown 】500ml water tank, water level detector real-time monitoring of the water level, if the water level is too low, the indicator light turns orange, Prompt to add water, then turn off
【Dual Humidification Mode】A key to open the light mode, soft lighting, humidification while watching the water droplets backflow, soothing mood, a key to open the sleep and Humidifier mode, counter-current continuous water spray humidification, comfortable with sleep
Desktop Humidifier
The crystal clear water drops slowly flow upwards, as if time began to flow backwards. While changing the humidity of the environment, it will bring you an magical experience, relieve the stress of life and work, and help you recover your mood.
Premium Gifts: Whether it is for personal use or as a gift to relatives and friends, it is the best choice.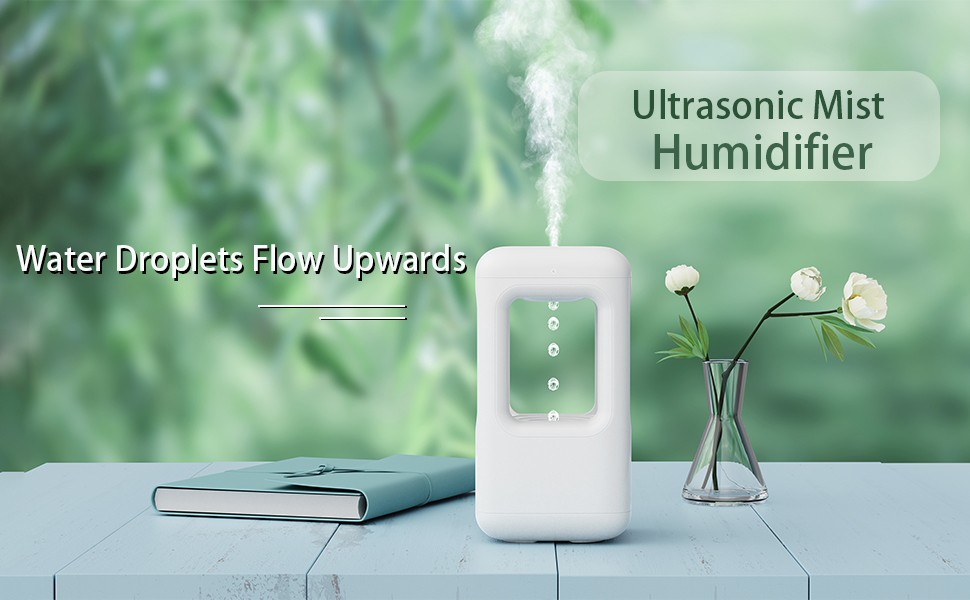 Warm Tips
Please empty the water tank if the Ultrasonic Cool Mist Humidifiers will not be used for a long time.

Turn off the power when not in use.

Please refill water every 4-5 hrs if you want to humidify for a long time.

Wipe with a soft dry cloth to keep it clean.

If new humidifier no mist, Drip a few drops of water to the spray nozzle, wait for the machine to clean itself, after one minute mist works well, repeat this process until the best state.

Only tap water, purified water or essential oil mixtures (do not use pure essential oils) in the tank of this product.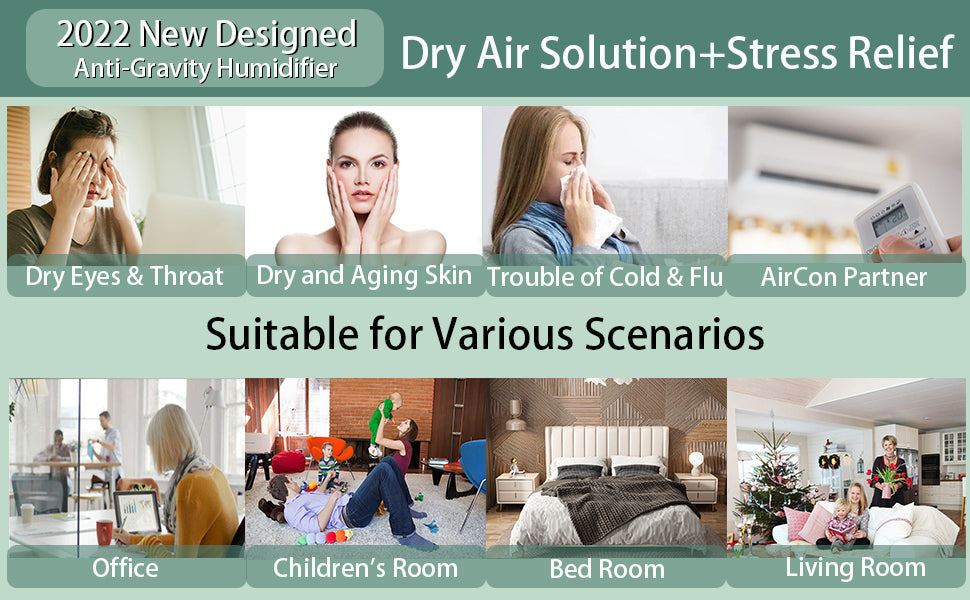 Ultra-Fine Mist
Ultrasonic atomization technology produces ultra-fine mist, high-frequency vibrations of up to one million times per minute, which can easily increase the humidity of the space without wetting your desk.
Dual Working Mode
One key to turn on the light mode: Soft ambient light, while enjoying humidification, watching the water drop back flow, soothe your mood.
One key to turn on the sleep mode: Turn off the light, continue to spray water to humidify, accompanied by the sound of running water, help you fall asleep comfortably in nature.
Power Failure Protection
The humidifier will automatically turn off after 4 hours of continuous operation. Cut off the power to protect the machine, making it safer to use.
Water Shortage Protection
Intelligent water level monitoring, indicator turns orange when water level low, reminding to add water, automatically shut down if water run out.
Easy to Add Water
Open the water tank and pour 500ml of water to the water level line.
Pour some water through the water outlet hole.
Easy to Clean
Open water tank, unique interface design, easy to disassemble and assemble. Large diameter can easily clean the inner wall.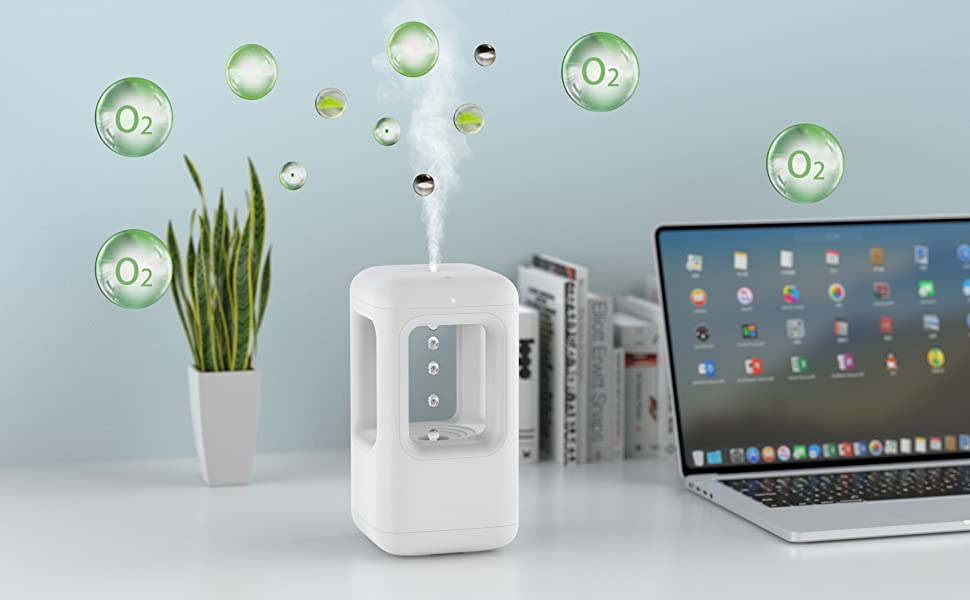 Cause of Issue:
Problem 1: The Ultrasonic Cool Mist Humidifiers does not start. Cause: Using the incorrect charger. Solution: Connect the 5V-2A quick charging plug and restart the machine.
Question 2: No water mist/water mist is significantly reduced. Reason: The atomizing sheet is dirty. Solution: Drip into a few drops of water, Machine start Self-Clean, Just a minute later, The mist appear good. Repeat the process to get best state.
Problem 3: The shape of the water drop is wrong. Reason: Insufficient water in the water tank/boot delay/power adapter error. Solution: add water/restart/Connect quick charging plug of 5V-2A and restart.