Women Jewelry - How To Raise Your Vibration And Stay Positive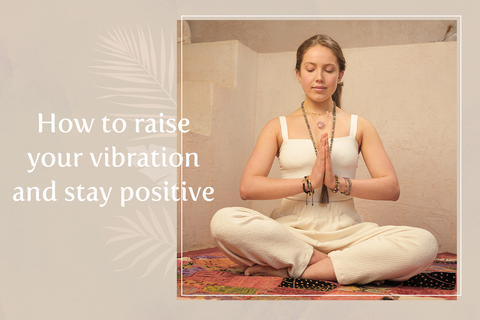 There is no way to avoid news or social media about the coronavirus (COVID-19) and the panic many of us have been experiencing over the past few weeks. The world is in true lockdown and fear is rampant.
While we need to take this seriously, there are ways we can get through this and put our friends and family on a positive journey.
Protect your physical and mental health

Maybe we can't do anything about what's going on outside, we can absolutely control what's going on inside. Whether we are at home or in our brains.
Buy our healthy women jewelry today to boost your immune system and help you cope. Because this too will pass, and we will be stronger, more resilient, and, yes, really happy.
Positive emotions can help us counteract the negative effects of stress. Your brain can handle pleasure, even the smallest things
• a cup of hot tea
• Play with your children or pets
• Get some fresh air in the yard
• Meditation is the best
• Online cooking classes
• Read a good book
• Zoom or Facetime with friends and family
• Have interesting conversations and motivate them
Now you're giving your brain a much-needed boost, your serotonin levels will increase, and the "feel great" transmitter in your brain will elevate your mood and keep you calm. This is a scientific fact.
Get your "bonds"

Limit your intake of news and social media. If you have a reliable news source, watch it for a few minutes in the morning and afternoon. This will reduce the level of anxiety, depression and fear.
If you are on lockdown with family members or roommates, BLAST. Increase oxytocin (the happy hormone), which turns off the dreaded cortisol (the unhappy super stress hormone). So, the question is how?
Get your "tie". If you have kids, try the following:
• talk to them
• Read each other
• Watch great movies with popcorn
• Tap into your inner child and play Twister or whatever game you have
•Dance
Exercise and writing

Families, couples, friends let you exercise. Between YouTube and countless other online workout programs, it's easy and fun. Try yoga, it's the best exercise for body, mind and mind. All of this promotes intimacy and connection, which feels really good.
Keep a daily gratitude journal, either alone or on social media, and encourage your followers and friends to do the same.
We are united in hope

We are moving beyond media debate and negativity because we firmly believe that humans are inherently good people.
The world is now united in hope as they are in fear. Be hopeful and raise your vibration, your friends on social media will feel it and your family will benefit just by being around you.
• See what's happening in Italy, singing and dancing on the balcony.
• Just in Luxa, the younger generation came out of woodwork and volunteered to go grocery shopping for the elderly.
• Neighbors get together to help each other, even with toilet paper. Our biggest commodity right now. Ha ha.
• Scientists around the world are working overtime to find a cure.
Turn it off to enhance those vibes
Give up the urge to constantly share negative information on your social media pages. It will frustrate you and your friends/followers.
Raise yours and theirs by finding positive messages to share, or create a fun feed with goofy videos and inspirational quotes. It will magically transform your negative emotions into positive emotions, and everyone who follows you.
Spread your positive infectious energy women jewelry

When you adjust to all of the above, you will become resilient and experience positive emotions. Your stress levels will drop, you'll increase your immunity, improve your creativity and brain function, and spread your infectious positivity bracelet to others.
In other words, your Luxa level will increase and you will absorb more of what you need and want instead of what you don't need.
There's a lot of power in staying positive, and it's up to us more than ever. Let's do this together.