Valentine Jewelry - 16 Spiritual Valentine Gift Ideas For Him & Her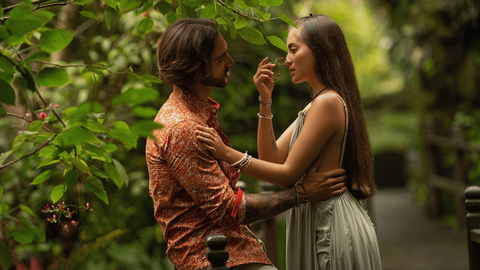 The history of Valentine's Day jewelry includes commemorating a martyr named Valentine and public celebrations celebrating fertility ceremonies. Today's version of events looks a little more intimate. We can show our undying dedication when we find the right spiritual Valentine's Day gift ideas for her and him.
Shop our Valentine's Day Gift Guide
Spiritual Valentine's Day Gift Ideas for Her
She deserves a gift to show the world her talent and beauty. These thoughts will fill her soul with the love you have for her and inspire her to let that love spill over into the world.
To Love Red String Bracelet
This day gives us a collective opportunity to spread love to the world, but we can also show our true dedication to that special someone. The Devoted to Love Red String Jewelry is the perfect Valentine's Day gift for her.
This simple braided bracelet is full of spiritual meaning. Send her deep-rooted love through your heart rhythm; this will show that you intend to shelter and protect her from any life with the Evil Eye Bracelet.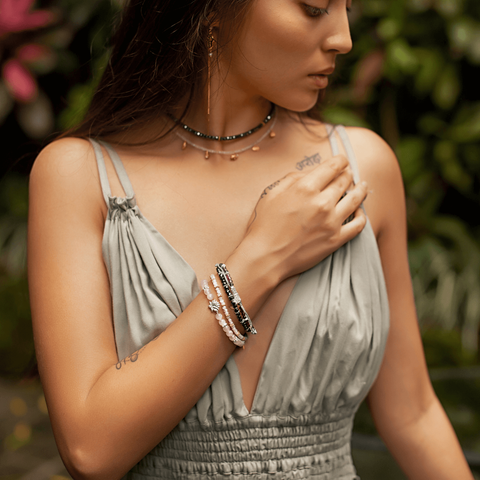 Pure Love Heart Ring
Another delicate design, the Pure Love Heart Ring is a constant reminder to your loved one to open her heart to the gift of compassion and love. This ring will enable her to spread soulful joy to those around her.
Glowing Love triple necklace
The Three Strand Glowing Love Three Layer Necklace is a great Valentine's Day gift idea for her; everyone has a powerful energy to inspire the love you share. The top layer is decorated with a gold heart for extra love. Next, decorated Hamsa hands protect your spiritual connection with each other.
A rose quartz jewelry hand hangs from the last string. This powerful shape and stone will ensure that she nourishes the love within herself so that she can offer acceptance, affection and beauty to others.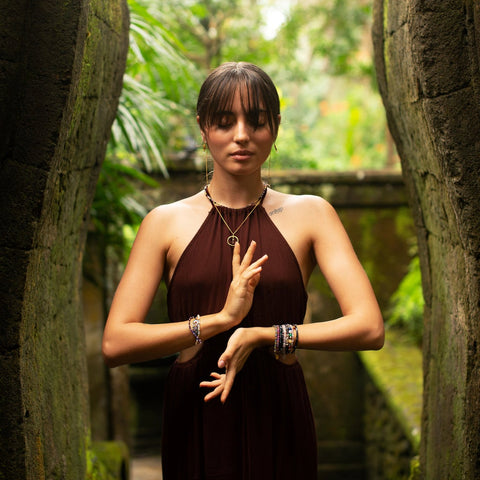 Gentle Energy Rose Quartz Bracelet Pointer Bracelet
Another pointer crystal in this Valentine's Day jewelry collection, the Gentle Energy Rose Quartz Pointer Bracelet enhances romantic love and intimacy with a multitude of gemstone beads. The pink tourmaline hands remind the wearer to focus their love on themselves in order to gain sympathy and understanding for their loved ones.
Harmonious Emotions Heart Necklace
The next Valentine's Day gift idea for her will radiate a powerful aura. The Harmonious Emotions Heart Necklace is encased in mother of pearl, a beautiful stone that guides the mind towards divine love.
With the evil eye emblazoned on the heart charm, she will safely explore the creative love that arises from her spirit and guide her with inspired wisdom to make a true soul connection.
Bright Dreams Pearl Bracelet
It's a classic style that never fails in her cherished Valentine's Day gift idea. The Bright Dreams Pearl Bracelet features freshwater pearls on her wrist, providing light to any challenges she faces in love. The evil eye charm with a diamond chip allows her to focus on her dreams while avoiding negative distractions.
Brilliant Glare Evil Eye Necklace
The Brilliant Glare Evil Eye necklace stands alone as a gorgeous charm and chain, or can be layered with other necklaces to suit any look. This versatile Valentine's Day gift idea focuses on self-love and inner compassion.
The evil eye charm relies on pink and white to echo the vibrations between the heart and crown chakras. This inspires the spirit of revealing passion and inspiration from within.
Sacred Emotion Moonstone Necklace
Finally, on our Valentine's Day gift list for her, the Divine Emotion Moonstone necklace brings a soothing balancing essence to the emotion of love. This rosary design infuses the core with a divine message that will prompt her to stop and appreciate the love in her life, thank the universe, and re-energize her own self-love.
Valentine's Day Gift Ideas for His Spirit
While Valentine's Day gift ideas are often marketed to women, men definitely want to feel loved this holiday season too. Check out these pieces and let him know that you appreciate what he does to keep you satisfied.
Spiritual Red Tiger Eye Bracelet
The Spiritual Vitality bracelet is her quintessential Valentine's Day jewelry. A soothing onyx gemstone set next to a red tiger's eye is perfect for the occasion. The Eye of the Red Tiger added life and vitality, giving him the confidence to conquer unknown forces on the road to achievement.
Thoughtful Silver Heart Charm Bracelet
This Valentine's Day jewelry gift touches on many levels of love. Think carefully about the spell Om Mani Padme Hum in every bead strung on the bracelet. These sacred words invite spiritual protection to guard him on his journey. He can also use this bracelet as a chanting meditation tool.
Divine Amethyst Hamsa Necklace
Pieces like the Divine Spirituality Necklace will fill your beloved partner with peace and harmony. Amethyst beads promote calm, healing relief from the busy world around you, while the Hamsa Hand amulet protects his spirit. This Valentine's Day jewelry perfectly conveys the divine connection of your love in return.
companion bracelet
Another black and red bracelet combo, the companion bracelet features garnet to promote health and passion. As a Valentine's Day jewelry gift for her, the companion bracelet allows your unconditional love to thrive and inspires many ways to truly connect when he receives it.
Bundled Gift Ideas for Him and Her
A better way to celebrate the love you share is to choose something that unites your souls and inspires both of you. That's why we've curated these bundles, which include a red string bracelet. Enjoy these great gift ideas for your partner while also giving you some self-love.
Infinite Wisdom Jade Red Packet
The Infinite Wisdom Bundle includes two wraparound bracelets with emerald stones. For him, a darker emerald and evil eye symbol protects him as he seeks to manifest prosperity and abundance. A lighter piece of jade and a Buddha image allow her to gain serenity and purification on her inner spiritual journey.
Essential Protection Evil Eye Red Rope Bundle
The evil eye will keep your love safe in this Valentine's Day gift idea for him and her. Woven into the red string of the bracelet in the Essential Protection Bundle, this symbol enables you to support each other and endure hardship together, knowing that your love will guide you through any obstacle.
Classic Shield Evil Eye Red Rope Bundle
Another Evil Eye set, the bracelet in the Classic Shield Bundle almost matches, although her bracelet has an extra diamond chip. The connections these pieces create are constant reminders of your commitment to each other, even when you have to be apart. These bands protect your entangled spirits from afar.
Final Thoughts
With tons of Valentine's Day gift ideas for him and her, there's no reason to panic last-minute Valentine's Day. Honor your loved one by finding a piece that truly connects your soul in our Valentine's Day Spiritual Gift Collection.
Start Your Journey Here: Shop Our Valentine Jewelry Collection