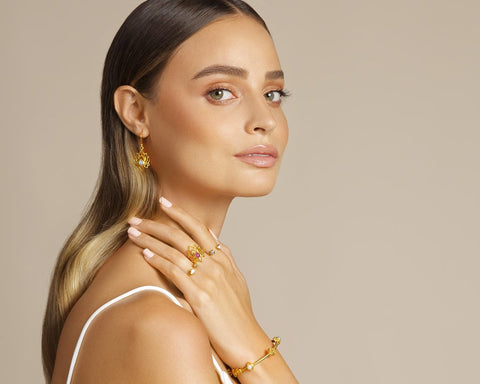 Whether you believe in it or don't hesitate to follow Buddha Protection and Peace Jewelry | Shop Our Evil Eye Jewelry | Luxa Wish, we have some recipes you can add to your traditional Thanksgiving meal. Buddha bracelets taste absolutely amazing and even the most unbelievers will love them. They taste so good, you can't help but smile when you imagine a chubby Laughing Buddha necklace.
So up front, these Buddha earrings have nothing to do with the faith or spirit of the Buddha ring. The recipes we're going to share are called Buddha bowls, but honestly, there isn't any clear general definition of what a "Buddha bowl" is or should be. We all know that they are delicious and wholesome, and come with all kinds of good things for you. Love healthy fats, vegetables and lots of vegetarian protein. You can eat it cold, hot or at room temperature.
A basic Buddha bowl
Fixtures you need
A bowl
Lots of beans, veggies and vegetables
Lots of grains, nuts and seeds
your favorite dressing or sauce
how to mix it
Warm the bowls of your choice first, then add your choice of ingredients as they cool, then top with your choice of dressing or sauce. Favorite mixes we found for a Buddha bowl:
Coat 1 small sweet potato with coconut oil and garlic sauce
Bake at 400 degrees for 45 minutes
1/3 cup quinoa, cooked according to package directions
1/4 cup black beans
1/2 cup shredded carrots
Add 1/2 cup cold arugula and 1/2 frozen baby avocado
Top with your favorite dressing or sauce. We recommend trying garlic hummus, tahini, or even a little garlic mustard or sesame oil.

Spicy Buddha Bowl
Fixtures you need
1 cup brown rice, cooked
1 sweet potato, cut into large pieces
1 teaspoon olive oil
salt and pepper
1 can drained organic chickpeas
1.5 tablespoons is Sriracha
2 teaspoons maple syrup
½ teaspoon paprika and garlic powder
1 c red cabbage, chopped
1 serving baby spinach
1 slice avocado
Turmeric Tahini Sauce:
4 tablespoons tahini
4 tablespoons water - warm
1 teaspoon maple syrup
¼ teaspoon chili
½ teaspoon turmeric
½ tsp is Sriracha
how to mix it
Set oven to 180 degrees.
Coat sweet potatoes with 1 tsp oil, salt and pepper.
Bake on a coated baking sheet for 35 minutes, turning after the first 15 minutes.
Meanwhile, place chickpeas, garlic powder, maple syrup, paprika, sriracha, salt and pepper in a bowl and toss to combine.
Heat the pan, then pour in the chickpea mixture and cook for 5 to 10 minutes, stirring constantly.
Once the chickpeas are sticky, set aside.
In another pan, season lightly and cook the spinach so that it wilts.
Transfer the mixture to a bowl with the cabbage and let the spinach wilt while you season.
Once the sweet potatoes are cooked, place the rice in the bottom of a bowl and add the chickpeas, red cabbage, spinach, sweet potatoes, and avocado.
Mix all the ingredients together, sprinkle on the Buddha bowl and enjoy!

The post Recipes Even Buddha Would Love! appeared first on Luxa Protection and Peace Jewelry