Protection and Peace Jewelry - A Great Collection Of Different Spiritual Jewelry Products For Your Peace!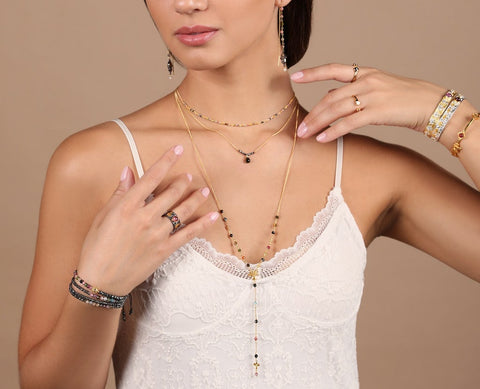 In worshipping ourselves, we should make sure that the jewelry we wear matches our general attire. We should consider the color, design, size and variation of jewelry. Also, to make these jewelry more outstanding and beautiful, they integrate gold, diamond rings and silver jewelry as well as different types of stones into the jewelry of their choice. Originally, Luxa jewelry products were made of silver rings, gold, stainless steel and stones.
We decorate our store with very authentic colors, sizes and shapes, offering different spiritual jewelry items for men and women. Now, check out these products to satisfy your mental instability.
1. OM Bracelet
In Tibetan Buddhism, the blessing voice of OM jewelry is very influential. translate
OM necklace from Sanskrit means spiritual unity. It is also a symbol of pure spirit. We have a large collection of OM earring jewelry in our store. OM bracelet products are decorated to empower people to connect through their spiritual crystal necklace energy, it also brings serenity, peace, faith and hope into our personal lives. This can be a thoughtful gift for your loved one. "The Voice of Creation" is the Hindu meaning of the men's OM bracelet. The Men's OM Bracelet represents the greeting of peace and also symbolizes the 4 states of our consciousness namely waking, detached, dreaming and dreamless sleep.
2. Buddha bracelet guide

Buddha bracelets are a type of Buddha jewelry that has caused waves in Buddhism. Now, it also represents a fashion jewelry business. Similar to other jewelry pieces, it is designed in a unique way. They have special spiritual protection jewelry undertones. There are many people who believe that wearing these jewelry products protects them from evil. These bracelets also bring good luck, favors, good fortune and lifestyle to those who wear them.
3. Evil Eye Bracelet and Necklace
Hamsa hand
The evil eye bracelets and necklaces just transcended the superstition myths we know, and its beads transcended the good-luck charm of the people who wore them around their wrists and necks. These jewelry products are best for young and healthy people to enjoy a happy and prosperous life. This is a highly recommended product for the younger generation. These bracelets and necklaces protect them from the "evil eye" and these jewels can bring good luck and a happy state of life. Wearing these evil eye jewelry to protect your spiritual jewelry wholesale will not only give you a glamorous look but also prepare you to fight your personal malice and curses.
4. Hamsa bracelet
GUIDENGHamsa means hand of ritual in Judaism. They believed that "good eyesight" provided compassion, and that was the point of time when Moses asked Miriam to help him get rid of evil. Miriam was the sister of Aaron and Moses. In Arabic, Hamsa means five and represents the five fingers of a hand. It stands for "Hand of Fatima Bracelet" (daughter of the Prophet Muhammad). There are many reasons why people wear Hamsa bracelets. This jewelry has been embedded in different cultures around the world since time immemorial. They wear it mostly for their fashion, we don't know the importance of protection from evil. We carry a wide range of Hamsa jewelry in our store including Hamsa necklaces, Hamsa charms, Hamsa bracelets, Hamsa pendants and Hamsa accessories at very reasonable prices.
5. Natural Stone Bracelet
guide
Natural stone bracelets are durable jewelry because of their toughness. They can demonstrate their toughness without experiencing too much wear or damage.
Now a day, gems are a bigger and better part of fashion and advertising. Now a day, it seems that natural stone bracelets cover the world with their chunky bracelets and other accessories. Many of us believe it helps our kidneys, increases tissue regeneration, improves blood flow, and overall health throughout the body
Natural stone bracelets are a popular piece of jewelry that can change a person's life. bring-
• Good luck in business
• Relationship nourishment
• Clarity of mind and improved concentration
• Your wealth
• Self-confidence
• Your motivation
• Relax
The post A great collection of different Protection and Peace Jewelry products for your peace! Appeared First on Luxa.