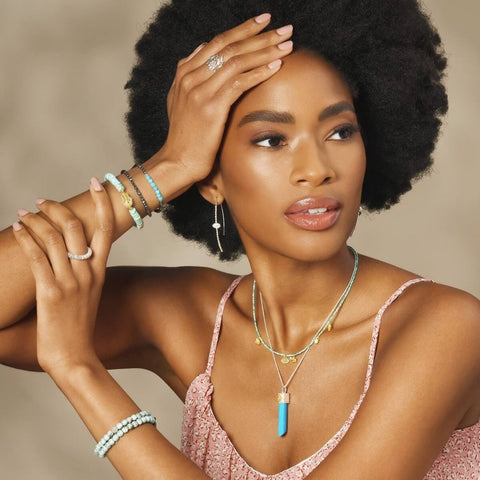 We all feel guilty about it, or most of us are. A look in your wardrobe will tell you if you're guilty. What are we talking about? We have one, two or three different colors in our wardrobe. Even when we shop with the goal of choosing different colors, we still tend to prefer one, two, or three colors.
Why? Usually, because we just look good in those colors. What makes us look good is our skin tone. Our skin tone determines which color suits us best. Not sure what your skin tone is?
Determine Your Skin Tone
Obviously, skin comes in a variety of shades, but in any case, there are only two undertones and that's what counts. The process of determining your undertone is simple. Start by flipping your palms up. Look at the blood vessels on your wrist, what color are they?
Cool-toned: If your blood vessels are blue or purple, you are cool-toned. The best colors for you are ocean, sky and water colors such as black, grey, navy blue, royal blue, white. When it comes to metal jewelry or other accessories, choose silver rings.
Warm-toned: If your blood vessels are green or yellow, you are warm-toned. The colors that work best for you are earth tones like brown, burnt orange, cream, dark green leaf green, sunny yellow and taupe. Pair it with fall colors and you can't go wrong. Match your jewelry and accessories with rose and yellow gold.
Intersect and mix cool and warm colors
The basic colors we've just discussed are great for everyday wear or in a pinch. But never be afraid to experiment with color theory. By using different shades of various colors, you can create a look that is both cool and warm.
Use this theory when choosing colors for your signature lipsticks and nail polishes. This also applies to your accessories and jewelry. Mix cool and warm beads with gold and silver earring hardware to create your own look.
Color Wheel
Have you ever looked at a coworker's outfit and wondered how she knew the two colors would go together? Most likely she understands her undertones and understands the color wheel of fashion jewelry. Mixing colors has been a big trend for the past few years, but you need to understand how colors work together and separate from each other.
For example, take any color on the color wheel and draw a line with your finger to the directly opposite color. One color is cool and the other is warm. These are called complementary colors, and you can mix and match them throughout your wardrobe, including your accessories and jewelry. By choosing the color that best suits your skin tone as your primary color and another color as your secondary color, you'll create a flattering look.
Next, choose another color and see the color to the right or left of it. These are similar friends of the original color of your choice. Using this method will keep you within the undertones of your skin, but also provide you with similar friends.
Other Pointers
Watch how your skin reacts to sunlight. Cool-toned people burn easily, while warm-toned people just darken. What if you don't belong to either camp: cool or warm? Then you have a neutral base that can be worn with any accessory or jewelry in any color! Are you unlucky?

The post Do You Know What Your Color Is? appeared first on Luxa Moissanite Diamond Earrings