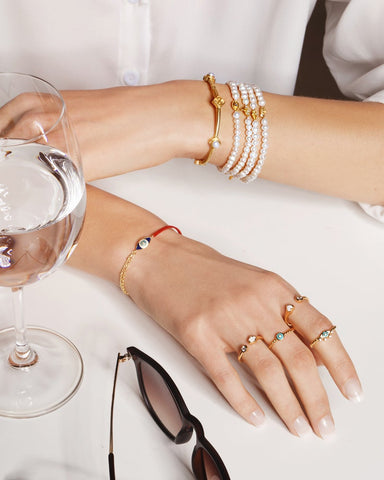 Makeup can complete and enhance our appearance, or it can completely change our appearance. Depending on your intent jewelry, you can range from everyday "average" to dramatic looks for important occasions. We choose makeup based on skin tone and accentuate our outfits.
Many people don't realize that when we match Happiness Confidence Jewelry with makeup, we stand out even more! Our makeup, clothing, accessories jewelry, and even our jewelry express who we are. That's why it's so important to find the right clothing and accessories - the complete package represents who we are.
When we organize our clothing, including our jewelry and makeup, there are some basic rules to follow. For example, our makeup should be close to the color of our clothes, and our jewelry should be emphasized accordingly.
For example, if we choose a simple pink dress, if it's daytime, we might choose a darker or lighter pink eyeshadow. This can be paired with gold, silver earrings or platinum jewelry, and maybe even a long or short string of small pearl necklaces or other precious stones.
If we're out dressing at night, we'll probably wear dark blue or black and pair our makeup with a smoky eye. This outfit will be complemented by metallic jewelry and larger beads that match our eyeshadow or lip color.
Let it collide, let it match
Either way, you have the perfect piece of jewelry to complement your outfits, makeup and jewelry. Or choose to have them clash and speak for themselves. The trick for any of these to work for you is choosing jewelry to complement clothing and makeup.
This can be done when we know what colors collide and what colors match. Like keeping earth tones, like blue, brown, green and red, they will work together to complete an outfit. But try pairing colors that are opposite each other on the color wheel, and they might conflict -- or they could complement each other.
It is this deliberate conflict of mutual complementation that completes your outfit. For example, you can use it with confidence, pairing necklaces and earrings perfectly with apple red lipstick. Or choose the opposite color on the color wheel, choose green gemstones around your earrings and necklace, and wear apple red lipstick.
Instead of mixing jewelry with lipstick, you're using conflicting and competing color combinations. This combination will focus attention on your face and your jewelry in a harmonious way. Or maybe you want your jewelry to be the center of attention.
Choose a boho necklace made of bold and bright gemstones and metals to complement your makeup for a light and soft finish. Apply subtle color to your eyes and lips, and let earrings and necklaces catch your eye and hair color.
Color alone is not enough
But matching or colliding colors is not enough. There are a few caveats to the design of the jewelry itself. The color, design and style of the jewelry will lend it to an overall hero.
The colors and shades of your jewelry are highlighted by your makeup and clothing. It's important to find jewelry that fits your makeup look for an expressive or fun look. You can add the style you want by using various clashing or matching elements and create a major fashion statement.
Handle with Care
The accessories and makeup you choose can make or break your look. When designing what to wear, the color, proportions and style of the jewelry should be considered.
Wear black, white or neutral colors, accessories and jewelry of any color can make an outfit look coordinated and stylish. But you don't want your makeup or jewelry to clash when your outfit is all about color and/or pattern.
If your dress is shiny and short, with a slightly higher neckline, skip the necklace and choose a pair of earrings that match your eyeshadow and lipstick. You don't want to overload your look, so opt for simple jewelry. This is the perfect necklace accessory when you're not a necklace or necklace type.
When you want the eye to see your waist, choose a jeweled belt that catches the eye. If you have a long neck and a tight chin, a beaded necklace or a metal necklace with beads or gems is the perfect earring for a little black dress.
Without a doubt, jewelry is the easiest way to make your clothes sparkle. It can draw attention to your ears, eyes and neck with sparkling metal pieces, or your hands with beads and glitter bracelets.