Gemstone Jewelry - Citrine: The Journey To Success, Prosperity & Joy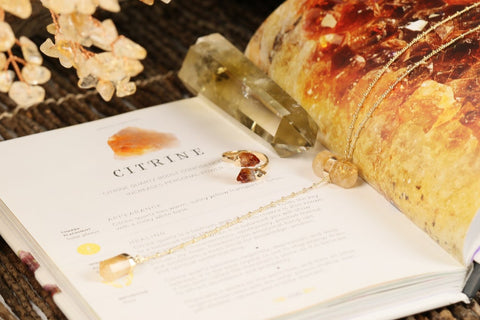 Attract Success and Prosperity with Citrine
Happy birthday, November babies. Citrine, your birthstone ring, literally brings so much joy because that's what your stone is all about, providing vitamin C to every soul who wears it, and benefiting everyone. Want to know some cool fun facts and its amazing properties?
Citrine is a mineral quartz that is widely used as a gemstone and is one of the most popular and sought-after Gemstone Jewelry. This gorgeous gemstone jewelry inspires solar plexus chakra earrings and enhances your personal strength and energy bracelet. Bright and happy, Citrine is known for bringing positive energy and good luck.
Birthstone Myths Busted
While we're all craving our birthstone earrings, let's bust some myths, shall we? You don't need to be born that month to benefit from the power of certain gems and crystals. The November stone is Citrine, a bright, beautiful bracelet, full of power and thriving from the sun itself.
Citrine: happiness, positive energy, joy, success and light
Citrine is often referred to as the "Success Stone" because of its ability to bring success and prosperity. This stone represents the center of our personality and self, promoting self-esteem, willpower, and discipline.
Citrine cleans, excites and warms you. Its bright and sunny color exudes happiness and positivity. Wearing citrine will improve the clarity of your thinking and also activate and stimulate your thought process.
Citrine is a powerful manifestation stone, and if you want to manifest a desire in your life, it is the best stone to wear on your body. It activates your imagination and brings a more optimistic outlook. Your vision will also become more creative.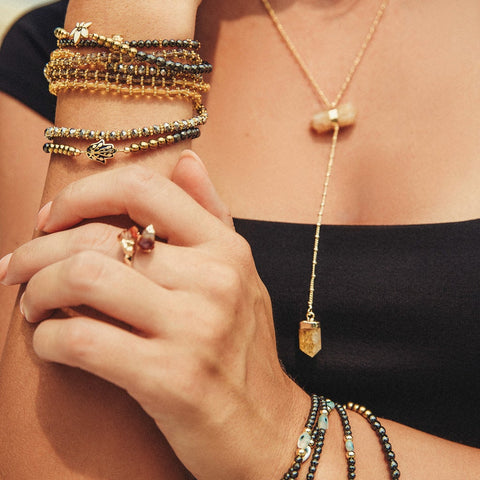 Benefits of Sunshine Citrine
• Uplifted, feeling more positive and happier.
• Attract wealth and success.
• Fill your self-confidence with a Light Bead Bracelet.
• See the light at the end of the tunnel.
This is all? Oh no! Far from it. This gorgeous stone uses the energy of the sun to balance the bracelet. Just stay on its energizing path and let the Citrine cling to your skin and you'll feel sun-kissed all day long. You can connect to your light source and inspire our innate natural jewelry optimism, forgotten over time.
Citrine is directly related to your solar plexus chakra healing necklace, which is a source of personal strength and confidence. By bringing the radiance of these gemstone earrings to the center of your core healing energy bracelet, you can remove obstacles that hinder your pursuit of the most extraordinary powers and aid circulation.
The sheer brightness of citrine will enhance your power stone bracelet, lift your spirits, and allow you to make the most of your highest vibrations. If your intention bracelet includes wealth, happiness, confidence, performance and joy, be sure to wear citrine.
When to use Citrine
• We need to release anger and toxic feelings.
• Want to add some sunshine to your day.
• Feeling unbalanced and scattered.
• We need to perform an important task, whether personal or professional.
• Want to be reminded of your self-worth.
• Attract more money and success.
• Need for happiness.
• Release negativity and attract positive ones.
• Attract more love.
Spells used with citrine
• I will be successful in my life.
• I am a smart, caring person who deserves happiness.
• I add positive energy to the world every day.
• I will attract beautiful people in my life.
• I attract funds quickly and easily.
• I attract love easily and effortlessly.
• I am energetic and open-minded.
• I exude creativity and light.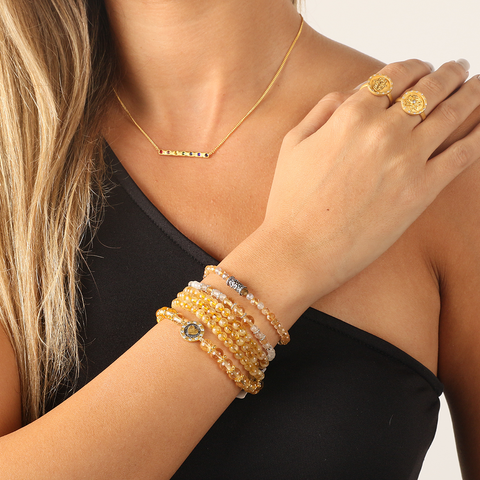 Citrine is the perfect stone if you are looking to brighten your day and attract positivity.

Start Your Journey Here: Shop Our Gemstone Jewelry Collection