Crystal Bracelet - 20 Best Gifts To Receive If You Love Spiritually-Centered Items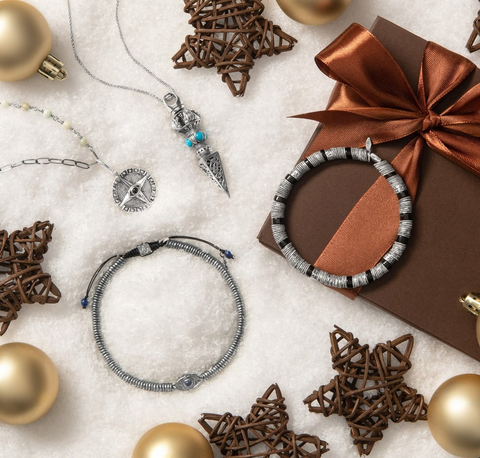 Are you so busy ticking off your to-do list that you forget about yourself and what gift you want your girlfriend to give your mom?
Because of our tendency not to express our preferences, we end up receiving tons of gifts from women we don't want, embarrassingly thanking them, and then feeling guilty. Wouldn't it be better to make a list of Christmas gifts to receive?
You can subtly influence your loved one's gift-buying decisions by finding gift ideas for women who love story jewelry, and then casually giving some subtle hints. After all, the art of buying meaningful gifts for a best friend involves both expressing our wishes and listening to what others have to say.
While jewelry and accessories are often seen as display items, spiritually centered objects remind us of our potential and our beliefs. We can invoke their energies at any time, whether it's relaxing in quiet meditation or coping with stress.
20 Best Gifts If You Love Spiritual Items
Do beautiful spiritually centered objects made with pure intent and mindfulness grab your attention?
In that case, this list of 20 best gifts for your girlfriend will keep you hooked.
Just don't forget, it doesn't stop there! There's more in our extensive online catalog.
Red String Bracelet

Wearing a red rope is a practice that spans time, culture and religion. So it's not rigid and can be explained in a way that resonates with you.
A common thread running through all traditions is the red rope's association with kindness and compassion, which brings harmony, faith, luck, protection and strength to the wearer.
While red string is most often worn as a bracelet, it works just as well as a necklace.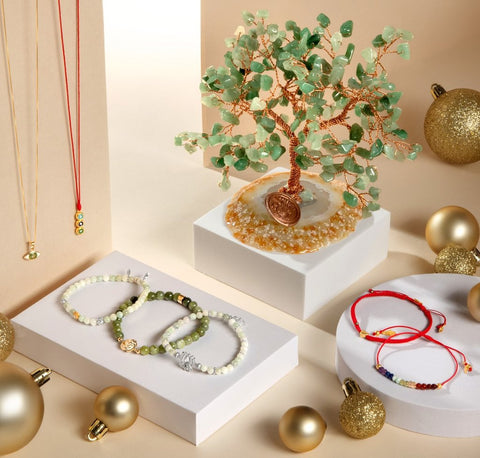 Women's Red String Collection
At times, it feels as if we've been going against the wind, and as one problem is solved, another arises. In this case, a red string bracelet is a great gift for a girl.
The Obstacle Crusher Red String Lotus Charm Bracelet is perfect for getting through these tough times. The delicate lotus charm attracts the energy of new beginnings, enlightenment and fertility, reminding us that this too will pass.
Our Lead By Intuition Red Rope Moon Charm Bracelet and Spiritual Advisor Red Rope Evil Eye Charm Bracelet are great in times of change when guidance is needed. The female lunar energy enhances our intuition and perception. However, to hear the voice of God, we must go inward. Sitting quietly under the protection of the evil eye allows us to receive spiritual guidance.
Gain inner peace by meditating with the Soothing Tranquilizer Evil Eye Amethyst Red Rope Necklace and allow the healing, calming energy of amethyst to flow through you. It is only when we enter into inner peace that we realize the infinite possibilities when we open our hearts to divine consciousness.
Consciousness needs to be maintained, however, because the human mind can quickly get lost. Wearing the Potential Possibilities Buddha Lotus Double String Red Necklace is a constant reminder that we have limitless prospects.
Pendants are the perfect spiritual gift, especially when you want to keep your chakras in balance. Because the pendant is aligned with the spine, its energy is aligned with the seven spiritual centers. The Divine Awakening Gold Chakra Bar Red Rope Necklace allows us to stay in touch with our Higher Self and align with Divine Guidance and Intentions.
Energy doesn't die like physicality, so the power that protected our ancestors still protects us today. Drawing on the energy that kept people alive before the ancient protection of the Silver Red Cord Evil Eye Charm Bracelet, let's stay connected across time.
Knowing that we are protected gives us the confidence to face the world head on and live according to the conditions of life. Wearing the Brave GazeRed String Matte Onyx Evil Eye Bracelet brings this to our minds every day.
However, facing life directly means we must practice the truth in everything, including being completely honest with ourselves. However, true honesty requires courage! The Sacred Truth Silver Red String Heart Mantra Bracelet brings courage and spiritual energy to keep us on the path of absolute truth.
Our Mighty Protector Tiger's Eye Stone Wrap Bracelet is a great boost of courage when we need it in our daily lives. The brave, balanced energy from Tiger's Eye combines with the protection of Hamsa's Hand to create a boundless shield of unwavering protection.
Men looking to make an understated bold statement will be drawn to the green and red radiance of the Fiery Luck Jade Evil Eye Amulet. Centered on protecting the evil eye, jade attracts abundance and prosperity.
But no matter how prosperous we are, if we are not responsible, all the good luck will drain from our fingertips.
Stability comes from the strength of our character and intelligence, and the elephant is an awesome symbol of both. Wearing a protective and stable Silver Elephant vs Red String Bracelet allows what is shown to remain, grow and mature, and it's certainly a great gift idea for mom.
Colorful Bracelets With A Purpose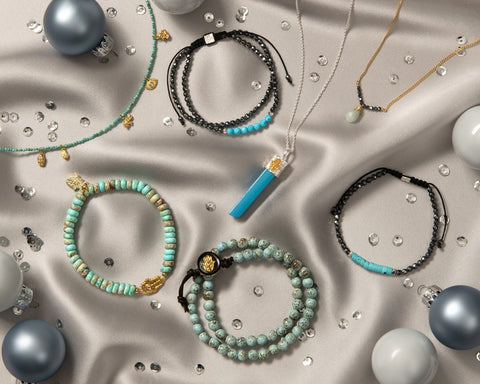 Spirit bracelets also make great gift ideas for girls because when we wear them, they stay in our sight, allowing us to always see and appreciate their beauty and meaning. Worn individually or multiple times by men and women throughout history and across cultures, bracelets depict beauty, faith, culture or religion.
Even in the most dreary moments, a splash of bright color can cheer us up. When it is full of positive energy, anything is possible. Since we love jewelry healing bracelets, we wanted to share these vibrant pieces with you to make your day even better.
Passion, Energy and Health
Sparkling with fiery garnets, the Spirit Of Love Earrings Set Garnet Wrap Bracelet bring passion, vitality and health to your life. It comes with a delicate heart-shaped charm that adds a fiery love kiss.
For balance and calm
All passion needs to be balanced; otherwise, it can spiral out of control. Amethyst brings balance and calm in any situation. Regularly wearing the Divine Balance Amethyst Hamsa Wrap Bracelet helps bring about the balance, harmony, order and rhythm needed for true happiness.
For resilience and strength
Navigating life's obstacles requires courage and flexibility. The multicolored Resilience & Strength Lapis Agate Turquoise Wrap Bracelet is designed to enhance gratitude and appreciation. This way, we can keep in touch with your spiritual guide.
The road to healing
Everyone needs to recover from time to time, and this is not a journey we need to undertake alone. When things get challenging, the intense green Path To Healing Wrap bracelet with the healing Eye of Horus will guide you from darkness to light.
Green is connected to the heart chakra, our healing center, at the center of the color spectrum. Thus, it accesses the physical and spiritual self.
Crystal singing bowl
However, no matter how peaceful our home is, we are inevitably stressed and exhausted by the hustle and bustle of the outside world. Unfortunately, we're bringing all this negativity out of the front door into a home we can manage, but we can post the right gift online to receive it.
Regular cleaning of our aura and environment is an important spiritual practice that we should continue. But many times, people don't know how to purify energy and just let it go away, resulting in the accumulation of negative energy in various forms.
Clean easily with the Tranquil Spirit White Crystal Heart Chakra Singing Bowl. The green heart chakra lotus sits firmly in the immaculate purity of the white bowl, reminding us that life itself is not complicated. It is the noise of our minds and the clutter of the world around us that creates stress.
We have a full selection of crystal singing bowls because when we are at peace we open the door to enlightenment. Once we catch a glimpse of the way of truth and enlightenment, we begin to experience life differently and live it with joy, energy, and passion.
Final Thoughts
It's not selfish or self-indulgent to find Crystal Bracelet for her that you'll love with a bracelet.
Here's a way to guide your loved ones on the right path when the season of giving comes. It also lets you know what gifts you can buy for others.
Even buying a "gift for me" is not selfish.
Getting something with special meaning, looking and dressing beautifully, boosts our confidence and shows self-appreciation.
Before we can love jewelry or properly appreciate others, we must learn to love ring gifts and appreciate ourselves. Self-giving is a great start!